Admissions
ELIGIBILTY
The Minimum Educational requirement shall be (10+2) examination through CBSE or State Govt. Boards passed with physics, Chemistry, Biology and English or any other examination equivalent with 12 years of schooling with Science (Biology) from a recognized Examination Board.
The Minimum requirement of marks will be 45% in aggregate.
Age shall be 17-25 years for male and 17-28 for female candidates.
ADMISSION FORM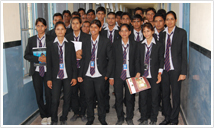 Admission form attached with the prospectus duly filled in all respects shall be submitted to the principal of the college with the required documents. Xerox copy of the form shall not be accepted.
POST-ADMISSION REQUISITES
Selected candidates are required to submit the following documents in original:-
High school certificate & marksheet
Marksheet of Higher Secondary  (10+2)examination
Caste certificate (if belongs to SC\ST\OBC)
Medical fitness certificate from an authorized Govt. Medical officer
Self addressed Post cards (Two)
Passport size photographs (four)
School leaving certificate
Migration certificate from Board/university.
Eligibility certificate
Xerox copies of high school and higher secondary marksheets.

Original certificates will be retained by the college till the completion of the course. The admission of the candidates who fail to submit certificates in original will be cancelled. Fees once paid will not be refunded nor transferred to any other college/ course or individual.
Members of Anti Ragging Monitoring Committee College Level

(Session 2018-19)

S. No.

Name

Contact No.